Discover more from The Intersection
Musings about journalism, tech and innovation.
Over 1,000 subscribers
Actually, history is cool.
A look at newspaper archival photos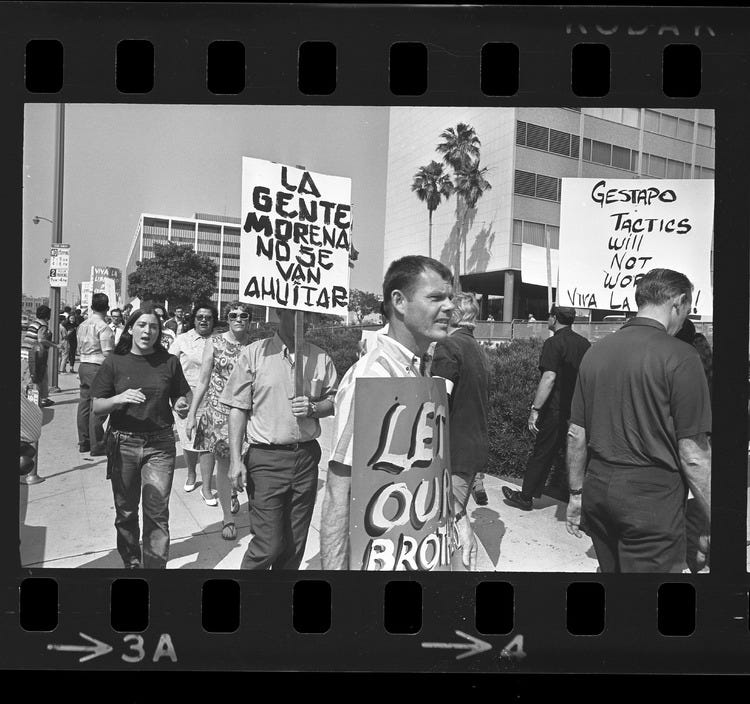 Pickets out front of Los Angeles Police headquarters protesting arrest of Mexican American student leaders in 1968 at the height of the 

#Chicano

 movement or El Movimiento. (Los Angeles Times Archive / UCLA) 
I apologize in advance because this email is a bit self-serving. But also, this is my newsletter. So hear me out.
Yesterday, I wrote a story announcing the launch of the Los Angeles Times archival Instagram account, @latimesarchives. There are lots of reasons we decided to make this account, but one was clear: give the people what they want.
"Our archival content has consistently been among the most engaging images on our main @latimes Instagram account, so we're expanding that interest into a standalone account."
Singer
#EltonJohn
relaxes next to bronze star bearing his name that was dedicated on Hollywood's Walk of Stars in front of Chinese Theater in 1975. John, who arrived in a gold golf cart for the ceremony, became the 1,662nd entertainment luminary to receive a star.
It's early on (we've only promoted this account for a few days), but there are 3 takeaways I've had so far:
Nostalgia sells: People are extremely interested in looking back at old times and sharing their thoughts and memories. We've seen success time and time again with archival content across the industry, whether it's @nytarchives or @vintagetribune. Like one reader said who tweeted me last night: "Great idea. No-brainer for any newspaper. People love old pics."

Engagement is higher: I've been looking at the user behavior of those who follow us, and the actions are almost identical: They follow the account. Then they spend minutes going back to some of our first ever posts, liking them and commenting on them. One reader remarked that he was glad he followed our account before we publicly announced it because he would've spent hours going through the photos and not doing anything else.

The possibilities are endless: User-generated content. Narrative pieces. Archival accounts on other platforms.
Do you know of any publications doing cool things with their archival content? Let me know for a future post.
P.S. — Archival content isn't all just fun and games. Newspapers are notoriously bad at preserving archives in the digital age, and we need to do a better job.
// adriana lacy writes the intersection. you can follow her on twitter at @adriana_lacy  //