Discover more from The Intersection
Musings about journalism, tech and innovation.
Over 1,000 subscribers
Let's talk about Instagram (from Facebook)
Instagram is making lots of changes in the publisher space
An intro. It's not Monday, yet here we are. Apologies on the delayed newsletter, I spent the weekend in Miami at the National Association of Black Journalists conference and neglected to complete this newsletter in a timely manner.
Talk to me. I'm available by email, twitter or simply by replying to this email. Let's chat.
Well, let's get to it. Right now, it's all about Instagram. Er, well, Instagram from Facebook. The company announced that it's considering rebranding its Instagram and WhatsApp applications to "Instagram from Facebook" and "WhatsApp from Facebook," similar to its "Workplace by Facebook" styling. The rebrand "will be visible when users sign into the applications and on app store displays, according to the report, and presumably elsewhere."
In a statement to the Wall Street Journal, Facebook spokeswoman Bertie Thomson said the company wants "to be clearer about the products and services that are part of Facebook."
There's also plans from Facebook dabble more into the news game. While the company has offered instant articles to publishers and put some money behind local news, the tech giant also has plans to create a "news tab," according to the Wall Street Journal.
"Representatives from Facebook have told news executives they would be willing to pay as much as $3 million a year to license headlines and previews of articles from news outlets," according to the Journal report, and the company has reportedly pitched ABC News, Wall Street Journal parent Dow Jones, The Washington Post and Bloomberg.
And while Facebook is putting some focus into branding and news, it's also gearing up to deal with scrutiny from regulators.
From The New York Times' Mike Issac: "The social network's changes are now prompting a debate about whether a more knitted-together Facebook, WhatsApp and Instagram is just smart business or helps strengthen potential anticompetitive practices."
"The big question is, is this a logical business plan? For a social network with enormous growth in photos and messaging, there's probably significant business justification for combining the units." — Gene Kimmelman, a former antitrust official in the Obama administration
Over at Instagram, there's a few key changes underway:
The company is testing out scheduling for Instagram posts on Facebook's Creator Studio. Right now, some users can schedule both photo and video posts across multiple business accounts and supports video uploads to IGTV.
The scheduling tool also lets users add hashtags and tag users in posts, along with location tags. Instagram story scheduling is not available yet. With a decent analytics dashboard on Creator Studio along with the post scheduling ability, Instagram is slowly eliminating the need for many third party Instagram scheduling applications.
Instagram is also hiring someone to focus on partnerships with some of its more famous, viral Instagram accounts.
From The Atlantic's Taylor Lorenz: "the company is announcing that it's looking to hire its first-ever strategic-partnerships manager specifically to focus on meme accounts and what the company calls "digital publishers," social-based media companies including @TheShadeRoom, @OverheardLA, @CommentsbyCelebs, and @Betches."
It won't be easy though. More from Taylor: "Whoever Instagram hires will have to navigate a tricky set of unofficial mores and ever-shifting politics. "We've never gone out to this community and given best practices," says Charles Porch, Instagram's head of global creative partnerships."
Some Media Reads.
"If you want to move on something, it's good to have people whose job specifically it is to do that."
"Does Facebook's news tab change anything? No. But it does highlight that the slow, forced integration of news into large tech companies continues."
"So far, the FT has seen the polls drive the highest click-through rates of all other links, though it wouldn't share specific numbers."

A song for the week
A tweet for the week
A story for the week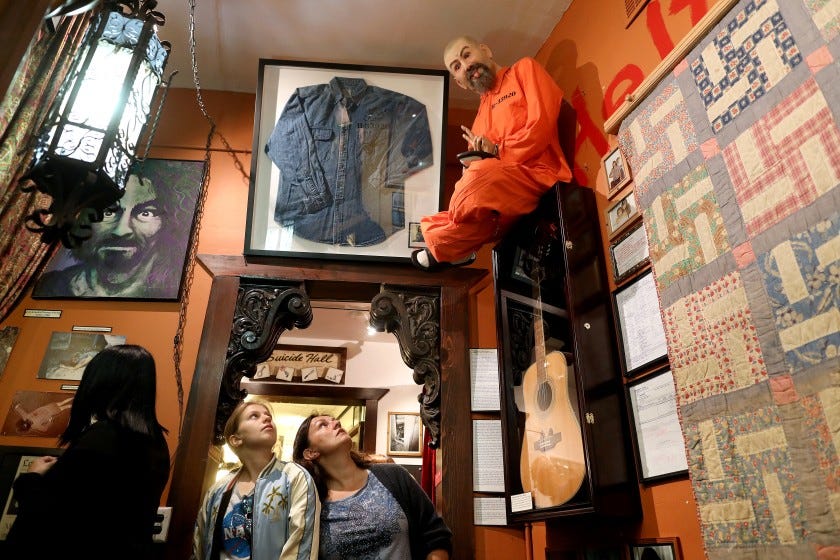 Stine Dahlen, 13, left, with mother Silje Dahlen, vacationing from Strommen, Norway, visit the Charles Manson exhibit at the Museum of Death in Los Angeles.(Gary Coronado / Los Angeles Times)
"There are morgue photos of the Black Dahlia, aka Elizabeth Short, the lower half of her body separated from the upper by a foot or so of empty air. Two toddler-size white caskets. Serial killer John Wayne Gacy's "authentic clown shoes." A suicide suit and Nikes taken from the body of a Heaven's Gate cult member who died along with 38 others. The shrunken heads of half a dozen men — well, as far as anyone can tell, they're men."
That's all from me! Have a great week.