Discover more from The Intersection
Musings about journalism, tech and innovation.
Over 1,000 subscribers
The Ballot looks to tell a global election story
It's an election year for almost 70 countries. You'll probably only hear about one.

It's only June of 2020 and the United States is experiencing a pandemic, racial protests due to the repeated killings of unarmed black people and it's also an election year. 
In fact, it's an election year for almost 70 countries around the world. 
It's likely though, that you'll only hear about one. 
The Ballot, headed by Madeleine Schwartz, an experienced reporter and editor, is looking to change that. The website highlights elections around the world from a crew of global writers and editors.  
"I've reported in many countries, and it can be frustrating how much American media often presents the U.S. as the only country in the world," Schwartz said, adding that the pandemic is helping to change that illusion.
"A crisis has a way of reflecting fault-lines in every society, and in many of the countries we've covered, the pandemic has revealed huge social tensions and gaps," she said. "Slovenia, for example, had a fairly low number of COVID-19 deaths but has used the moment to surveil Roma people in that country. In India, some villages have barred Muslims from entering, claiming they spread the virus."
These stories and more are what The Ballot looks to highlight in its work. 
// Hello, and welcome to The Intersection. I'm Adriana, and I use this space to muse on the intersections of product, tech, and news. I'll try to be in your inbox a few days a week, but I'll keep it short because we all have things to do. If you want to connect with me, feel free to follow me on Twitter or simply reply to this email. If you want to read more from me, visit theblackjournalist.com. //
The site publishes three or four stories every two weeks and then archives the pieces together to show the range of places highlighted. Along with the analysis pieces, the site publishes interviews with notable people, such as Tarvi Martens, the person who designed Estonia's e-voting system. 
"We're driven by the elections themselves — what happens when, and what kind of follow-ups show us the impacts of those decisions," Schwartz said about the site's publishing strategy. 
"We also try to stay abreast of international news as much as possible. When Beijing announced a new security bill that basically tramples on Hong Kong independence, we knew we wanted a piece on that (and its influence on the city's upcoming elections), for example."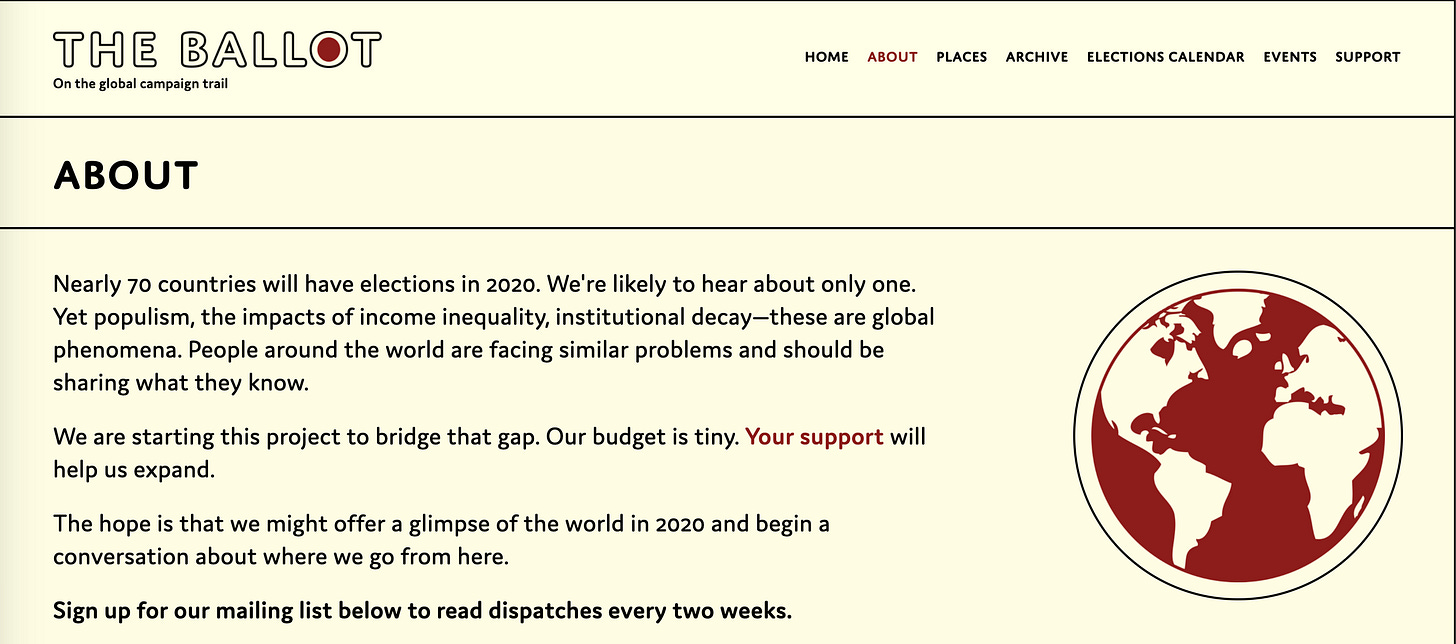 Immediately when visiting the site, it's clear that the branding and visuals also look to support the site's mission. 
"Simplicity and navigability were key if visitors would be coming to the site and reading the newsletter from all over the world," said Lucy Andersen, the site's designer. "I was going for a 'democratization of information' look — modern in its editorial minimalism, but with a slightly retro bureaucratic feeling that I find oddly reassuring, and appropriate for a space covering global governance."
There were some practical considerations that went into the design as well. 
The Ballot is entirely reader-funded, without a budget for photography. Andersen decided to lean into that, getting rid of photography entirely and instead focusing on the color, text, and lines on the site. She said that the end result underscores the universality of the project. 
In addition to the site and its newsletter dispatch, there is also an events arm. The Ballot started hosting events to bring people together during the global lockdown from the coronavirus. 
"We've been trying to bring international perspectives on big questions," Schwartz said. "One lovely aspect of this has been that our audience is truly international--often we have attendees from three or four continents."
The site's international perspective and inclusion of writers from all around the world is a contrast from the diversity problems plaguing our current media landscape. "There's such a wealth of talent out there," Schwartz added. "I wish our media made more room for their voices."
// adriana lacy writes the intersection. you can follow her on twitter at @adriana_lacy  //