Discover more from The Intersection
Musings about journalism, tech and innovation.
Over 1,000 subscribers
This newsletter looks to inform the Black community about the coronavirus
Meet Patrice Peck and Coronavirus News For Black Folks
The headlines are damning.
In Louisiana, 7 out of 10 patients killed by COVID-19 in Louisiana were Black. In Michigan, 40% of the people who have died of the virus are Black, even though Black people only make up 14% of the state population. Though often referred to as the "great equalizer," the novel coronavirus has disproportionately hit black communities and decades of disparities are now on full display.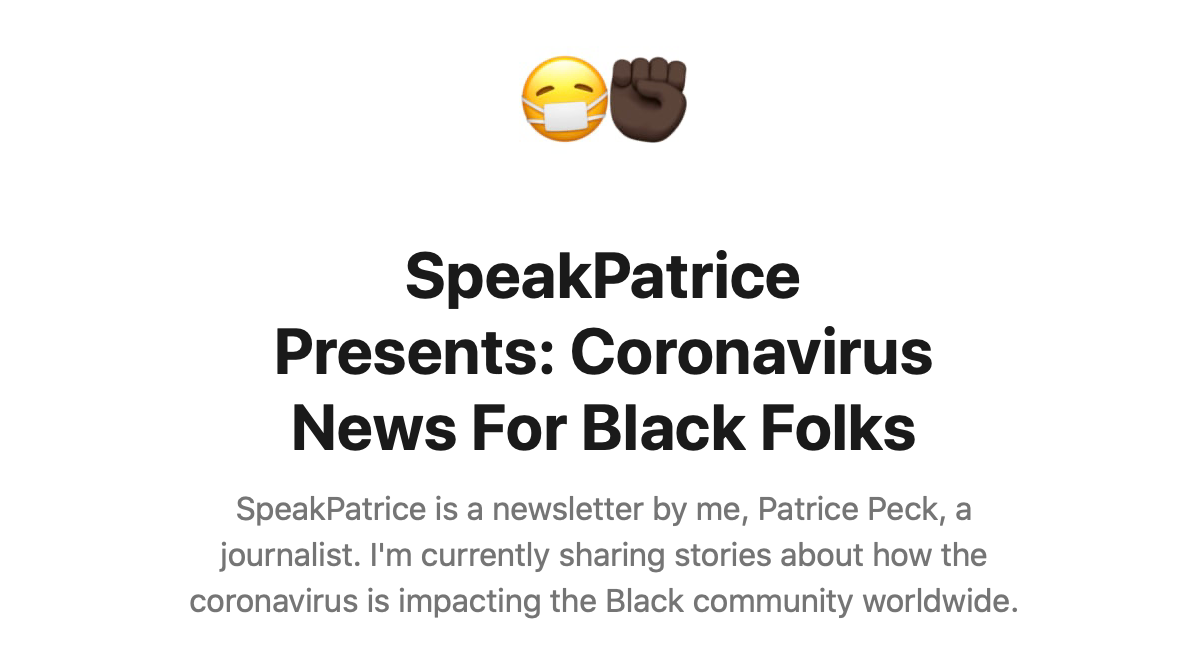 Journalist Patrice Peck is dedicated to covering all of this with her newsletter, Coronavirus News For Black Folks. Peck, who has written for and/or worked at publications including EBONY, NBC's The Grio, HuffPost Black Voices, CNN, The New York Times, and BuzzFeed, is sharing how the virus is impacting the Black community worldwide.
I got a chance to chat with Patrice about her newsletter and how she is calling attention to the disparities of Black people both nationally and worldwide.
// Hello, and welcome to The Intersection. I'm Adriana, and I use this space to muse on the intersections of product, tech, and news. I'll try to be in your inbox a few days a week, but I'll keep it short because we all have things to do. If you want to connect with me, feel free to follow me on Twitter or simply reply to this email. If you want to read more from me, visit theblackjournalist.com. //
There are a lot of newsletters out there about the coronavirus. What made you decide to create one?
 As a Black woman and a freelance journalist — and a Black woman journalist passionate about writing stories for us — I've been desperately brainstorming constructive ways to lend my writing skills to help fight this disease, suppress its spreading, and end this pandemic. I've also been wanting to write more original stories independent from any publication, for my own audience, and start a newsletter. So I decided to combine all these ideas and dedicate my newsletter SpeakPatrice to highlighting coronavirus news for Black folks, both stories written by other journalists and by me, Patrice Peck. Hence, SpeakPatrice Presents: Coronavirus News for Black Folks.
We're starting to see a lot more reporting about racial breakdowns of coronavirus patients. What issues are Black people facing with coronavirus that you want to highlight through your newsletter?
Black people — particularly those in the United States (which has the most confirmed cases worldwide as of 4/6/2020) — experience significant health disparities, including access to quality health care and insurance, and are disproportionately affected by cancer, heart disease, HIV, asthma, diabetes, obesity, and sickle cell disease. (The death rate for these illnesses is also generally higher for Black Americans than white Americans.) 
These health disparities stem from social inequities that are deeply rooted in and perpetuated by systemic racism, including (but not limited to) a much higher barrier of entry to and/or lack of access to fresh foods and healthy environments, employment, fair working conditions, and other economic opportunities, housing, and unbiased and high-quality health care, especially preventative services, like screenings and vaccinations, and insurance. According to the CDC, people who have serious underlying medical conditions — including cancer, heart disease, HIV, asthma, diabetes, severe obesity, liver and kidney disease, and sickle cell disease — might be at higher risk for severe illness from the coronavirus disease COVID-19. 
All that being said, the ongoing coronavirus pandemic is the most important, most pressing news story of our time. And while the mainstream media has been doing an excellent job of providing stories about the coronavirus disease (COVID-19) and the pandemic, there's still a huge lacking of widespread, daily coverage focused on the ways in which the disease and pandemic will/are disproportionately impacting the Black community.
"The ongoing coronavirus pandemic is the most important, most pressing news story of our time." —

Patrice Peck
Not only will this lack of coverage likely worsen the pandemic overall due to a lack of greater awareness and information about the disease and pandemic within (and without) our community, but it'll also devastate our community to a much greater degree. So, SpeakPatrice Presents: Coronavirus News For Black Folks aims to empower our community by circulating existing coronavirus (COVID-19) news and stories as it relates to the Black Diaspora and creating our own original FUBU written and audio content to fill the many gaps in coverage, from how the disease and pandemic are specifically impacting our physical and mental health, our social and cultural structures and institutions, and more.
What formats are you testing with your newsletter?
I am testing formats that are non-overwhelming, yet comprehensive, informative, relatable and engaging. That includes easy to skim news aggregation, including weekly and mid-weekly round-ups, interviews spotlighting specific people, places, and things, audio content (Substack has an audio feature I hope to test out), and user-generated content gathered via the newsletter's comment section, Google forms, social media, and more. I'm honestly open to testing out whichever formats help relay and retain information best. 
You mentioned in your newsletter intro that your goal is to 'fill the many gaps within existing coverage,' of the virus. What are some of those gaps?
Oh, there are so many gaps because there are so many underreported areas of intersections within the Black diaspora. For example, Black people in the U.S. experience significant health disparities that also include lack of access to quality health care and insurance, so it's critical that publications consider how this uniquely impacts Black immigrants and include these groups when addressing disparities among immigrant communities.
Intersectional U.S. coverage is key, including (but not limited to) Black/African-Americans, Caribbean-Americans, Black/Afro-Latino Americans, Black immigrants living in the U.S. and the LGBTQI+ people and people with disabilities within those communities. 
What are some of the biggest differences between writing this newsletter for yourself instead of for a publication?
One of the most significant differences is that I don't have to wait for a story pitch to be received, considered, and commissioned or passed. Editors understandably have a ton on their plate, especially these days. At the same time, time is of the essence when reporting on and sharing news related to the coronavirus disease and pandemic, given how fast this disease spreads. Also, sometimes an editor just won't understand the significance of your story or consider it to be along the lines of activism, or they might not feel it worth spending some of their budgets on commissioning it. 
So publishing my own newsletter allows for my original ideas and stories to go up faster and helps me not to second-guess the importance or validity of a story whereas I might be tempted to do so if the initial pitch had been "rejected."
If people want to reach you about the newsletter, what's the best way?
Right now SpeakPatrice Presents: Coronavirus News For Black Folks is a one-woman-show, so I'd love to speak with people who are interested in supporting the newsletter, whether that's through writing, social media, art design, data journalism and visualization, etc. People can reach me at https://www.patricepeck.com/contact and on social media at @SpeakPatrice.   
Bonus Question I ask all my interviewees: What is your favorite social media platform, and why?
My favorite social media is definitely Instagram. I'm a visual person at heart, and I'm constantly inspired by the inspiring, informational, and creative images and videos that Black women are sharing on that platform, whether that be a fresh set of box braids plaited by a stylist in Detroit, a funny video of a Black dad stunned into silence as his toddler daughter sings along to every lyric in the car or a breathtaking self-portrait oil painting done by a fine arts student in Kingston, Jamaica. 
// adriana lacy writes the intersection. you can follow her on twitter at @adriana_lacy  //